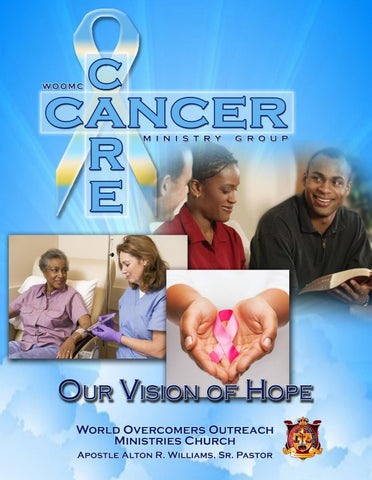 Cancer Care Ministry Manual PDF
According to the American Cancer Society, over 12 million people in the United States are living with or have been personally diagnosed with cancer. Every year, 1.5 million more people receive a cancer diagnosis.
Cancer impacts every aspect of a person's life; physically, mentally, emotionally, and spiritually. When people are cared for physically, mentally, & spiritually, they are better equipped and strengthened to fight life-threatening diseases, including cancer.
The Cancer Care Ministry of World Overcomers Church invites cancer survivors and caregivers to receive God's healing love and the healing love of fellow believers. Those in this ministry meet new people, get empowered, share their stories, and connect with others to offer strength, encouragement and hope.