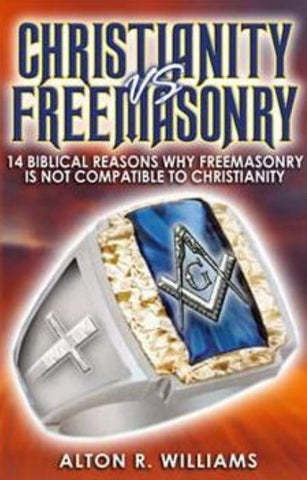 Christianity vs. Freemasonry PDF
Satan has convinced many Christian Masons that when they come into freemasonry, they are in darkness searching for the light! By making that statement, they deny the deity of Christ who is the light of the world (John 8:12). Most masons never learn the truth of the so-called hidden light or god of freemasonry until they reach the higher degrees.

Christianity vs. Freemasonry by Apostle Williams reveals: 
- THE REAL GOD OF FREEMASONRY
- A BRIEF HISTORY OF FREEMASONRY
- 14 REASONS WHY FREEMASONRY IS INCOMPATIBLE TO CHRISTIANITY
- HOW MASONRY HAS AFFFECTED THE CHRISTIAN CHURCH
- MASONRY'S CONNECTION TO SEXUAL RITUALS, IDOLATRY AND DEATH
- HOW FREEMASONRY CURSES THE MASON AND HIS FAMILY
- HOW TO BREAK THE CURSE OF FREEMASONRY
...And much, much more!
---
We Also Recommend