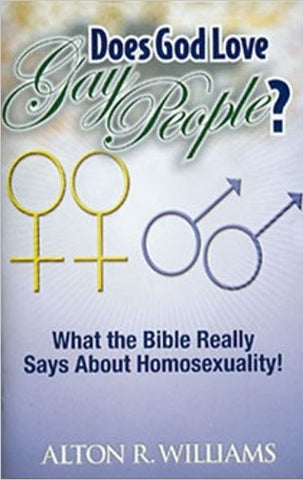 Does God Love Gay People? PDF
In the mini-book PDF Does God Love Gay People, Apostle Williams dispels, through scripture, the lies Satan has told the homosexual about how he/she was born that way. He also proves that God loves all mankind (John 3:16). For God so loved the world, that He gave His only begotten Son, that whosoever believeth in Him should not perish, but have everlasting life. It is the sin of homosexuality that God calls an abomination.
This PDF will also help family members, friends, loved ones and those seeking truth through God's Word to understand that God did not create the homosexual lifestyle. It is a chosen way of life. This book will answer the following questions:
Are People Born Gay?
Why Do I Feel Gay?
Does God Hate Me as a Homosexual?
How Do I Get Out of Homosexuality?
Where Can I Find Help to Turn Away from This Lifestyle?
Will God Ever Forgive Me for This Lifestyle?
What Is God's Divine Order for the Family?
Will God Ever Appoint an Openly Gay Bishop as a Leader in the Church?
---
We Also Recommend