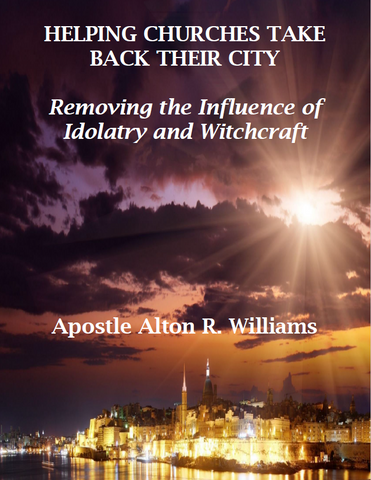 Helping Churches Take Back Their City PDF
HELPING CHURCHES TAKE BACK THEIR CITY: Removing the Influence of Idolatry and Witchcraft PDF

At the time of this writing (March 2023), the city of Memphis, Tennessee has experienced several negative incidents recently that have garnered great national attention. In September 2022, Cleotha Henderson kidnapped and killed 34-year-old Eliza "Liza" Fletcher. In January 2023, several Memphis police officers pulled over Tyre Nichols and beat him severely; he died in the hospital just days later. Memphis Grizzlies superstar Ja Morant was involved in an altercation with a 17-year-old boy and allegedly threatened him with a gun tucked in his pants. Memphis is one of the top five most dangerous cities in the United States. What is wrong with our city?

Helping Churches Take Back Their City: Removing the Influence of Idolatry and Witchcraft by Apostle Alton R. Williams answers this question by examining various spiritual implications for Memphis and other cities. It reveals how a city can be influenced by demonic oppression. It highlights how believers can combat darkness through their prayers, spiritual warfare, and strategic prophetic actions that invite God's presence into their area. Also, readers will learn why Memphis has such a strong witchcraft presence; 
the spiritual consequences of idolatry; how witchcraft influences city government, crime rates, drug use, & even water; the importance of believers raising godly altars to the Lord, and more!

This book will empower believers to take back their cities for the kingdom of God!
---
We Also Recommend