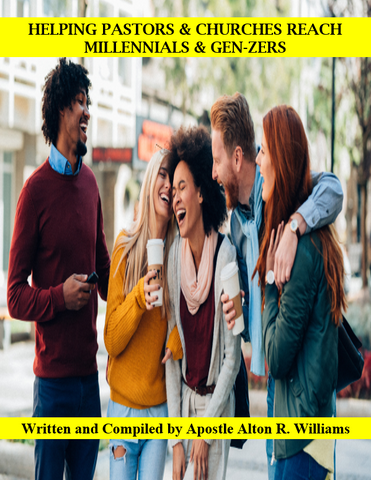 Helping Pastors and Churches Reach Millennials and Gen-Zers PDF
The influence of Christianity, especially among millennials and Gen-Zers, in the United States is waning. Rates of church attendance, religious affiliation, belief in God, prayer and Bible-reading have been dropping for decades.  Our nation's beliefs are becoming more post-Christian. The Body of Christ must come up with new church models, structures, and strategies to win millennials and Gen-Zers because they are currently turned off to Jesus, Christianity, and the church.
Helping Pastors and Churches Reach Millennials PDF, written and compiled by Apostle Alton R. Williams explores these issues and also highlights:
Why Millennials and Gen-Zers are leaving the church in droves
Why some people don't return to church after a first-time visit
Biblical and practical strategies for reaching and impacting millennials and Gen-Zers
The importance of small groups and digital discipleship
This book is a valuable resource for pastors and churches who want to win, disciple, and equip our future generations for the kingdom of God!
---
We Also Recommend