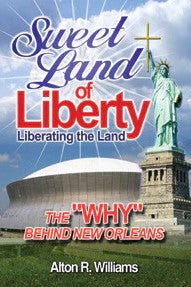 Sweet Land of Liberty PDF
When land is defiled, productivity, fruitfulness and blessing are hindered. A land is corrupted by activities done on it by the people who live there 
(Leviticus 18:25).


Immorality, bloodshed, broken covenants and idolatry can pollute the land and bring curses upon it. Even land has to be delivered.
In Sweet Land of Liberty PDF, Apostle Alton R. Williams reveals how land can be defiled and how it can be cleansed. Sometimes homes, buildings and even churches need to be cleansed from the sins of those in previous generations 
(Exodus 20:4-5)
. Once renunciation and repentance occur over an area, the land is liberated, and the kingdom of darkness must release its control, making way for evangelism.
---
We Also Recommend