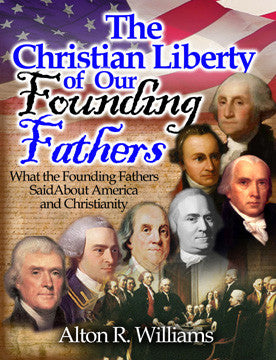 The Christian Liberty of Our Founding Fathers
The Christian Liberty of Our Founding Fathers:  What the Founding Fathers Said About America and Christianity
by Apostle Alton R. Williams
Did you know that 52 of the 55 signers of The Declaration of Independence were orthodox, deeply committed Christians? The other three all believed in the Bible as divine truth, the God of Scripture and His personal intervention.

Throughout the pages of Apostle Alton R. Williams' book, you will discover four main expectations of these Founding Fathers, as summarized in their many quotes and statements:

1. Carry on the Christian religion as the official religion of America, with no denomination receiving favor from the government.

2. Elect only Christians for our leaders.

3. Make worship a part of your public life; make public service a part of your worship.

4. Evangelize the nation, and especially the children, in the doctrines of Christianity as the best way to ensure liberty and security for our nation. Laws are not enough - we need Jesus.

The Founding Fathers' quotes discuss many religious, social and political topics such as: God, Jesus Christ, morality, religion in government, the Bible in education, Christian political leaders, marriage and family, evangelizing our children, homosexuality, slavery, punishment and rewards, prayer, God's divine intervention and the Godhead Trinity.

It is my prayer that this book will remove the lies, deceptions and misquotations of those who desire to rob us of our religious liberty and Judeo-Christian foundations. Blessed is the nation whose GOD is the LORD (Psalm 33:12).
---
We Also Recommend