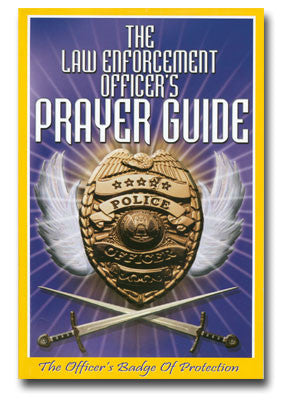 The Law Enforcement Officer's Prayer Guide
The Law Enforcement Officer's Prayer Guide:  The Officer's Badge of Protection
by Apostle Alton R. Williams

This Devotional guide is a compilation of prayers designed especially for the needs and concerns of law enforcement officers as they perform their daily tasks. When officers begin their day with seeking God for protection, peace and comfort, they are able to perform their tasks with confidence.
The prayers and petitions in this book are all based upon the promises God has given all who believe in Him from His word. Nothing gives a sense of peace, solace, comfort and protection like the word of God.
The prayers in this book cover subjects such as:
Police Praise Prayer
Officer's Prayer for His/Her City
Prayer for Crime in the City
Officer's Protection from Criminals
Prayer of Protection in Car Patrol Travel
Prayer to Overcome Fear
Prayer for Overcoming the Fear of Death
Scripture References for Overcoming the Fear of Death
Prayer for Avoiding Tragic Death
Prayer for Peace
Prayer for Grieving the Loss of a Fellow Officer and His Family
A Prayer for Spouses to Use for Their Loved One Officers, and many more.
The Prayer Devotional guide is also a quick scripture reference guide for officers when
they are in sudden difficult emergency circumstances. Officers can take these books around
with them while on the job.
---
We Also Recommend