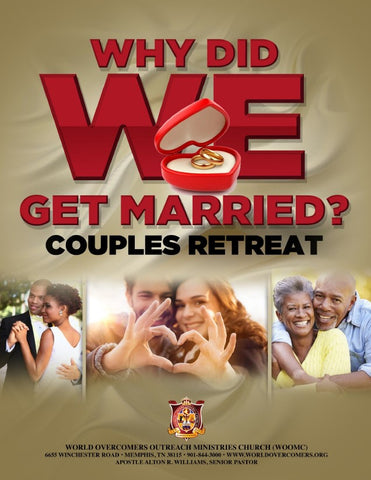 Why Did We Get Married? Couples Retreat PDF
The 2007 American comedy drama film Why Did I Get Married?, produced and directed by Tyler Perry, deals with the difficulty of maintaining solid marriage relationships in modern culture.
Four married couples who were college friends travel to Colorado for their annual weeklong reunion. They discuss marital challenges and strategies to strengthen their relationships. Although situations did not always turn out well, the couples were there for each other. As the couples counseled each other, they confronted and resolved hidden issues that had previously been ignored.

This premise is the basis for Alton R. Williams writing Why Did WE Get Married? Couples Retreat PDF. Four or five couples will spend a weekend at a retreat center to fellowship, converse, become transparent, counsel, strengthen, sharpen, and pray for each other.
---
We Also Recommend